On Monday, October 16th, 2017, you'll be electing eight City Councillors and our Mayor for the City of Red Deer.
ADVANCE VOTING LOCATION
Red Deer Museum & Art Gallery - 4524 - 47 A Avenue
From 10:00 AM - 8:00 PM
Friday, October 6th
Saturday, October 7th
Friday, October 13th
Saturday, October 14th
* All voters are required to show identification which contains proof of identity and current residence.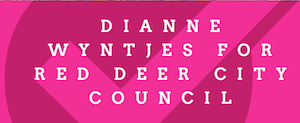 Thank you so much for your support!
Visit the City of Red Deer Election website for information about the Election: www.Elections.RedDeer.ca
MEET WITH DIANNE AT THESE EVENTS:
October Saturday Markets - the 7th (last market of the year)
UPCOMING ELECTION FORUMS:
Red Deer Chamber forum, Wednesday, October 4, 2017 - 6:00 PM - 7:00 PM, Harvest Centre - Westerner Park
Welcoming and Inclusive Communities Network forum, Thursday, October 5, 2017 - 7:00 PM - 9:00 PM, Festival Hall (4214 - 58 Street)
Red Deer College Student Forum - Mayor Candidate forum, Tuesday, October 10, 2017- 1:00 PM - 2:00 PM - Margaret Parsons Theatre
Construction, Land Development and Real Estate Industry forum - Wednesday, October 11, 2017 - 6:30 PM - 9:00 PM - Radisson Hotel
LET'S GET OUT THE VOTE RED DEER....
Voter turnout in the 2013 Municipal Election was eligible voters 63,979 with voter turnout at 20,364. Percentage turnout was 31.83%. Your vote matters Red Deer!
Municipal Politics Matters!

ABOUT DIANNE...
Hello Red Deer citizens and voters,
I have lived in Red Deer since 1975 and have seen our City grow, change and continue to evolve. Raised and growing up on a farm in central Alberta in the Diamond Valley district west of Red Deer, I recognize and value both urban and rural issues in our region and the importance of municipal relationships in the central Alberta region. I see the importance of the City of Red Deer as a hub of activity - through the economic, environmental, cultural and affordable lens. I see the importance of effective municipal leadership within City governance and in the central Alberta region. I recognize the decisions a Councillor makes not only impacts the Council four year term, but often impacts the City's long term future and footprints we make.
The City of Red Deer celebrated 100 years in 2013 and this year, Canada honours 150+ years. What will our City be like in the next four years and into the future? With effective Municipal Council leadership, the importance of listening and responding to citizens' perspectives and keeping connected with our community is an important role as a City Councillor. And making decisions to improve and advance Red Deer quality of life.
Family and community is important to me. I'm married to Allan for 25+ years and we look to continuing to appreciate and enjoy Red Deer as our community in the years ahead. Red Deer is our home.
It's been a great honour to serve as one of your City of Red Deer City Councillors for the 2010 and 2013 Council terms. Municipal governance is interesting and exciting work that has impact on the lives of all of us across the City. I would be once again honored to be given a mandate on election day to serve and work on your behalf at City Hall with my skills, ideas, and energy. I see the need for experience and leadership over the next four years and I can provide that experience around the Council table.
I'm asking for your support for re-election as one of your eight City Councillors. Our next 150+ years is just beginning!
Please contact me if you'd like to discuss an issue for the campaign. You can reach me at:
Email: DWyntjes@shaw.ca
Twitter: @DianWyntjes
Facebook: DianneForRedDeer
Telephone: 403 505 4256
A Poem: TURNING TO ONE ANOTHER ......by Margaret Wheatley
There is no power greater than a community discovering what it cares about.
Ask: "What's possible?" not "What's wrong?" Keep asking.
Notice what you care about. Assume that many others share your dreams.
Be brave enough to start a conversation that matters.
Talk to people you know. Talk to people you don't know. Talk to people you never talk to.
Be intrigued by the differences you hear. Expect to be surprised.
Treasure curiosity more than certainty.
Invite in everybody who cares to work on what's possible.
Acknowledge that everyone is an expert about something.
Know that creative solutions come from new connections.
Remember, you don't fear people whose story you know.
Real listening always brings people closer together.
Trust that meaningful conversations can change your world.
Rely on human goodness. Stay together.
**************************************************************
Do you know how Red Deer got its Name?
Prior to European settlement, the Cree living in the area called the river Waskasoo Seepee, roughly translated as the Wapiti or Elk River. Early British traders thought a wapiti was a European red deer and gave it that name. Who would have thought?
*************************************************************
The best time to plant a tree was twenty years ago. The second best time is now.... Chinese Proverb